---
---
Product review:
Passport to Paris (PSP)
It's great to see that the range of software for Sony's PSP is extending beyond games and videos and showing what a versatile machine it can be. I'm sure that most PSP owners, like me, pack their beloved console whenever they travel, so a series of travel guides seems a logical addition to the PSP's repertoire. Sony have clubbed together with travel guide publisher Lonely Planet to produce PSP guides to London, Paris, Rome, Prague, Amsterdam and Barcelona. As I was in Paris the other month, I took the opportunity to try out Passport to Paris.
Once the software is loaded and the obligatory logo and "pleast wait" messages have finally passed, you are presented with the main menu, offering the guide, maps, audio tours, phrase book, plus an 'image gallery' option. On selecting a menu option an appropriate submenu appears to the right. In the case of the guide, you are presented with see, shop, eat, entertainment, sleep and essential information. The first of these, possibly the most important section, contains a total of sixty of the city's main sights. As well as obvious choices such as the Arc de Triomphe and the Louvre, it was good to see a few more quirky offerings such as the Catacombs and the Musée du fumeur. Each sight or location is accompanied by a photograph, brief summary and, in some cases, a 'review' containing slightly more detailed information, and a link to a location map. Some of the information appears less detailed than in Lonely Planet's paper guides, but given that the PSP version is possibly intended more for use 'on the go', perhaps it is understandable not to give the user heaps of text to wade through. That said, I at least expected to see an indication of opening times, which appear to be absent. The last time I went to the Catacombs, they were open for about one hour on certain days of the week, so you may be in for the occasional frustration if you do try out some of the less common sights. It was good to see advice such as "to avoid queues at the pyramid, buy your ticket in advance and/or enter through the underground shopping mall", but surprisingly there seems to be no mention of the Louvre's (and other museums') free entrance day on the first Sunday of every month.

Also consider...

Lonely Planet France
If you're going to be covering more than just Paris, then you may be interested in the new edition of this guide published at the beginning of the year.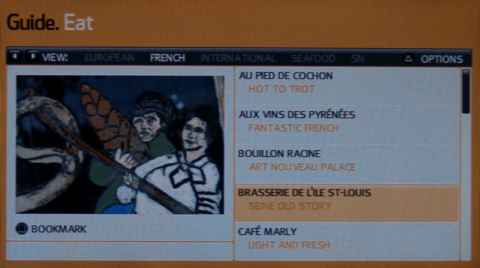 I had less occasion to use the shopping section, which will be more of use to those looking for chic crafts and fashion accessories than humble linguists looking for Virgin Megastore or the nearest Prisunic. The food section contains a smallish selection of restaurants at different price ranges and can be browsed by type of cuisine. Similarly, the entertainment section features various bars and clubs ordered by categories such as pub/beer hall, gay/lesbian and jazz/blues. Opening times are included, but you can't search by opening time. (Then again, if you're slumping round Paris at 4am wondering where to go next, that may not be a good time to carry your PSP.) The hotels section also includes places at a range of prices. Travelers on a budget may have appreciated a choice of more than 2 in the low-key section but if you insist on a jacuzzi, there are more options in the 'elegant' and 'boutique' sections. It was a welcome addition to see mention of the Apart'hotels chain for longer-stay travellers, though the categorisation of 'elegant' may cause disappointment for the aristocratically inclined.
---
[ Page 2 ]
---
(See the top of this page for information on buying this product.)
---
All editorial content copyright (c) Javamex UK 2009. All rights reserved.
All comments and material contained on this page are accurate to the best of the author's knowledge.