Typing accents

ALT codes

Choosing a keyboard
Inserting accented characters using the Character Map utility
On the previous page, we mentioned that you can use the Windows character map utility to look up ALT codes.
You can use this selfsame utility to help you insert accented characters (and other characters) into your document. From the Start menu, go to Programs > Accessories > System Tools and choose Character Map:
From the character map window, you can then:
Find and click on the accented character or special character that you want to paste into your document;
Click the Select button (the character should appear in the text field next to the Select button, as illustrated below);
Click the Copy button;
Go to your document window, click the mouse at the place where you want to insert the character;
Press Ctrl + V (Paste), or use your document editor's paste option as appropriate.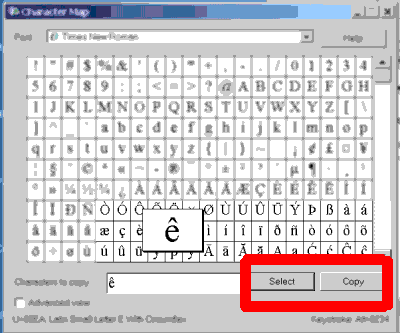 More efficient methods
Clearly, this method is cumbersome if you have any significant length of accented text to write. If you are in a position to reconfigure your machine, then it will be more efficient to get a keyboard with accented characters and/or configure Windows to use a French (or other) keyboard layout.
---
Copyright © Javamex UK 2008. All rights reserved.